Greetings CCC friends and supporters! Allow me to introduce myself: My name is Caitlin, and I am CCC's traveling nurse administrator. This is a very exciting time for me, as this is my first mission, and also my first blog for CCC! As you may or may not know, we are currently on a mission in Guatemala. This week, we will be establishing three more sustainable clinics (in the areas of  Lanquin, Tactic, and La Tinta) to the two which were established during CCC's last mission here in September 2013. We are extremely excited to bring our "See and Treat" procedure to an area whose women will benefit so greatly.
Today was our first full day here in Coban. Early this morning, we arrived at La Escuela Nacional de Enfermeria de Coban, where we were warmly greeted by our 12 newest trainees, who are nurses in various areas of Guatemala. We began the morning with a full and in-depth "See and Treat" lecture, headed by our senior coordinator, Jacquelyn Dang. Jacquelyn had the undivided attention of the trainees while she spoke about the epidemic of cervical cancer in developing countries, and how it is virtually 100% preventable. She proceeded to explain the pathology of the HPV virus, and the simplicity of the VIA procedure.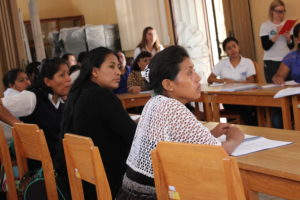 Next, Dr. Erica Oberman took the floor. She began her portion of the lecture with an overview of the female anatomy. She then went on to explain the cellular changes that happen as HPV progresses, and the classifications of cervical cells as they change from normal to abnormal. She also reviewed picture slides of normal and abnormal cervical findings. Then, it was time for the students to decide whether the slides shown were "VIA positive" or "VIA negative." I really enjoyed this part of the lecture. The trainees showed a high level of understanding of the material. It was clear that they were retaining every bit of information we gave them, and they were eager to be experts at "See and Treat."
Finally, it was our intern Stephen's turn to teach the trainees. Stephen gave a thorough, yet easy-to-follow lecture on the use of the cryotherapy gun and N2O tank. His lecture was followed up with a cryotherapy video for review. At this point, it was clear that the trainees were feeling confident in their understanding of the material.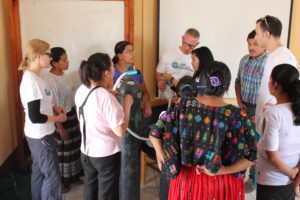 After this, CCC nurse volunteers Elsa and Doris lectured on the proper technique for disinfecting the cryotherapy tips and the vaginal speculum. They made the material easy to understand and remember, while stressing that improper cleaning could not only damage the equipment, but could allow the transmission of infection from woman to woman.
The lecture was concluded with a wrap-up by Jacquelyn, who noted that a woman who comes in for a screening only ONE time in her life can decrease her risk of death due to cervical cancer by 30%. If she is screened twice in her life, the number jumps to 60%. As expected, the trainees were excited to know that they could truly save lives with the "See and Treat" procedure in their clinics.
After a short lunch break, it was time to break into stations. The first station was conducted by our intern Yvonne, and Stephen. Yvonne and Stephen assisted the trainees as they assembled the cryotherapy gun. They learned about the care of all parts of the equipment, from the tank, to the cryotherapy gun, to the vitally important gold cryotherapy tips. Each of the six trainees at the station had a chance to hold the gun and get a feel for using the freezing and thawing functions.
The second station was conducted by Elsa and Doris. This station was a cleaning station, designed so that all trainees could become adept at the procedures for disinfecting the cryotherapy tips and vaginal speculums. At this station, the trainees also were able to assemble and disassemble the speculums, and were lectured on proper insertion and removal.
Throughout all of this teaching, the trainees were encouraged to ask questions at any time. And they asked some really great questions, which is always a good sign to a lecturer. These trainees were clearly ready to use this new knowledge in a real-life setting, and to become experts at "See and Treat."
For me, watching the lecture on-site for the first time was awe-inspiring. I had watched the lecture a number of times in the office setting, but to see the trainees ingest this information, and become more knowledgeable with each passing hour, was better than I could have imagined. I have no doubt that these women will become leaders in the fight against cervical cancer in Guatemala. And I am so grateful to be a part of something that is making such a difference. I can't explain how excited I am to experience my first "See and Treat" clinic tomorrow.