Today was our first clinic day in the city of Tactic which is a 45 minute drive from Coban. We arrived to a sea of colorful "cortes" which is the Spanish word for skirts here in Guatemala. Over one hundred women were already there waiting for us with warm  smiles and a "bueno dias!", making us feel so
welcome.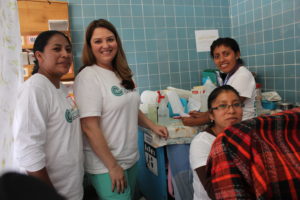 This is my fifth mission trip with CCC and as an Emergency Room RN, it is always special for me when I get to train fellow nurses in other countries. We are with an impressively bright group of nurses this week teaching them "see and treat". I was surprised to learn some of these nurses run clinics entirely by themselves and are their village's only source of medical care.
It was a very busy day, our trainees quickly learned the technique and we were able to screen over 230 women with 18% screening positive and receiving cryotherapy.
Despite the long wait, the positive attitude these women maintain is inspiring. Angela, a local Q'eqchi woman took two buses to Q'eqchi before arriving to the clinic at 7:30 am. She didn't get seen till 5:30 pm and still had a grateful smile to give us when we told her she was "negativo".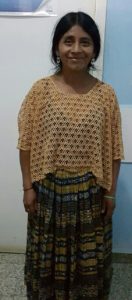 The team worked hard, we ended up packing up in the dark due to a power outage. We screened everyone that made it out to the clinic without turning anyone away. Today CCC made a difference.
By: Elsa Miramontes