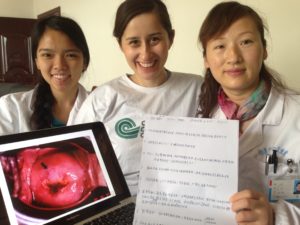 At Guan Yun Xian Yang Hospital we had a wonderful meeting with Wu Jie, the only gynecologist at the hospital, who serves a population of over 70,000 people. Wu Jie had previously been trained in cryotherapy and has used the procedure for the past year, however she came to us with a sheet of several in-depth patient specific questions that we helped to clarify. She was thrilled that we had come to spread awareness of cryotherapy because she believes wholeheartedly that the women in her community benefit from this procedure. Wu Jie helped our campaign by passionately informing her colleagues that cryotherapy is simple, efficient, cost-effective and that patients experience no pain or bleeding from the procedure. More importantly, she recognized that "See and Treat" is most effective because of the one visit approach, which leads to an on-the-spot diagnosis and treatment all within 15 minutes. This circumvents countless doctor visits and extra money spent on medical tests and procedures that boast an identical cure rate to that of cryotherapy.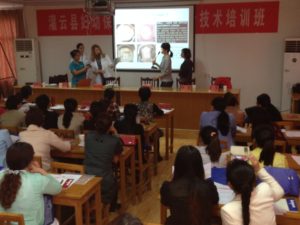 At the Gynecology Clinic of Guan Yun County, we lectured over 75 gynecologists on the intricacies of "See and Treat" with cryotherapy treatment and certified 28 qualified doctors who underwent rigorous hands-on training. In just two days here, we screened 144 women and treated 43 with cryotherapy– an extremely high 30% treatment rate for precancerous cervical lesions. On average, the WHO reports that about 12% of women test positive for precancerous cervical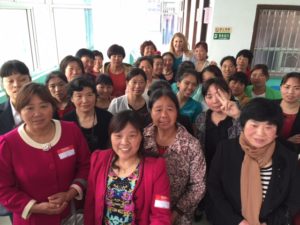 lesions. Yet, we have consistently found a 30% positivity rate throughout our work in China. It is clear that there is a huge need for cervical cancer screening and treatment services here. In a population as large as China's with as much as 80,000 women developing cervical cancer per year, we believe "See and Treat" is the proper approach to this epidemic that will place a dent in this large number as quickly and efficiently as possible. This was an extremely successful start to a hopeful long-term relationship and we anticipate returning in the near future to continue increasing our impact on these women and their families.

The CCC team spent the last three days of our program in Lianyungang, located 500km north of Shanghai on the eastern coast of China.