CureCervicalCancer has returned to Nairobi, Kenya this September to train healthcare providers in "See and Treat" and bring thermal ablation to Nairobi. CCC will launch a new partnership with Women4Cancer, a Kenyan based non-profit organization. Women4Cancer focuses on community education as well as advocating for women's health and early cancer screening. CCC will continue to strengthen its longstanding partnership with LVCT health, another Kenyan non-profit organization, and bring thermal ablation devices to 5 LVCT clinics. LVCT health focuses on empowering female sex workers as well as men who have sex with men in HIV prevention, screening, and treatment.
In preparation for the weeklong "See and Treat" training program, Community Health Workers gathered in the LVCT Headquarters to learn about cervical cancer prevention and how to motivate their community to get screened. CCC trained 29 Community Health Workers who will mobilize and empower the women in their community.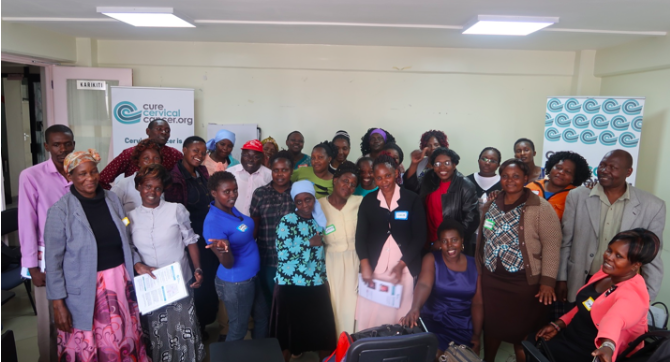 Prior to the training, the CCC team also visited the hosting clinic, Mukuru Health Center in Embakasi, with supplies. Over the course of the morning, the CCC and Women4Cancer staff unpacked the clinics-in-a-suitcase and set up each training exam station.