This concludes CCC's weeklong training in Hue, Vietnam where 20 local healthcare providers were trained in the "See & Treat" method and thermal ablation. The trainees worked hard to screen a total of 877 women with Visual Inspection with Acetic Acid! These women include Hue locals, teachers, and police officers. Each of the six clinic stations was staffed with about 3 to 4 trainees and an expert facilitator who worked efficiently to screen over 200 women daily. On Wednesday, a CCC record was broken by having 321 women screened in one day!
Throughout this entire week, the trainees detected 5 women who were positive for cervical lesions. Two of the 5 were treated with thermal ablation. The other 3 women were referred for further testing and/or treatment. The positivity rate was relatively lower in Hue compared to rates from CCC projects in northern Vietnam. This is likely due to the fact that many women who arrived for the CCC screening were previously screened in the past. In order to screen women in remote mountainous regions we have partnered with the Nam Dong District Hospital located in the countryside of Hue. By providing training to expert ObGyns and midwives from this rural district hospital, many women from this mountainous region will be able to access cervical cancer screening for the first time.
Dr. Lan from the Vietnamese Association of Midwives (VAM) was the first trainee to perform thermal ablation treatment on a precancerous lesion.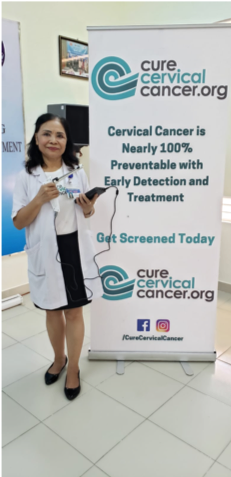 Finally, at the end of the week, the trainees took an exam in the "See & Treat" method. To celebrate all of the hard work and dedication of the trainees, they all received the certificate of training in thermal ablation during the graduation ceremony.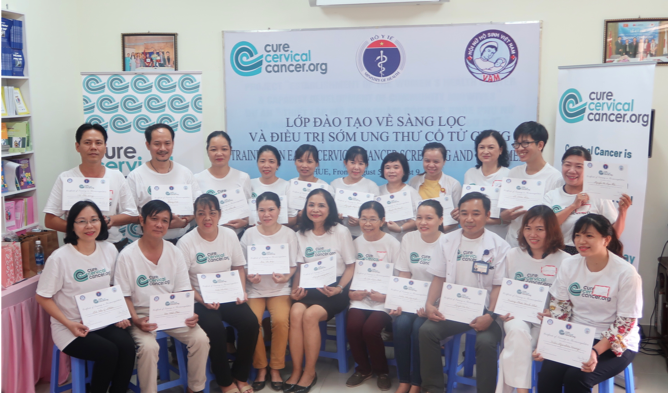 3 thermal ablation devices were donated to 3 different clinics: the ICRC Karin Higa Clinic, the VAM Fishman Family Clinic, and the Nam Dang Cervical Cancer Prevention Clinic.