Today (Friday) is our last clinic day of our 2016 Guatemala Program, and it has been such an honor to work with the amazing WINGS and ACPC teams this past week!
This morning, the CCC team held a graduation ceremony for our five newly-certified "See and Treat" trainees at WINGS. Their performance this week was phenomenal. Not only did these nurses screen hundreds of women over the course of the training, they were able to correctly identify positive versus negative VIA, and perform cryotherapy with confidence. At the end of Day 5, the nurses analyzed the day's patient data, and calculated a 14% positivity rate. Again, these high positivity rates demonstrate just how much the women of these communities need this service.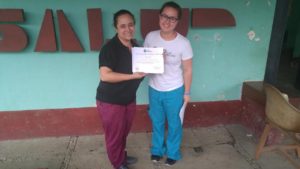 CureCervicalCancer would like to thank Dr. Erica Oberman, Dr. Valentina Rodriguez, Rick Siedband, Elsa Miramontes RN and Nina Fateyenko PA for their time, assistance, and enthusiasm. Without them, as well as the directors, nurses, and coordinators at WINGS and ACPC, this year's Guatemala program would not have been possible. We look forward to our new partnership with WINGS and continuing our programs with ACPC!
By: Ellen Nong, CCC Intern