In what will mark our third program in Guatemala, CureCervicalCancer returns to train more local healthcare professionals, in addition to reevaluating and reeducating our existing five clinics. CureCervicalCancer is excited to form a new partnership with WINGS, an organization dedicated to providing family planning education and reproductive health services to marginalized communities in Guatemala.
On our first clinic day, we met the five new nurses that will be trained this week in VIA and cryotherapy. After Dr. Erica Oberman and Dr. Valentina Rodriguez reviewed the didactic "See and Treat" lecture with the team and trainees, we immediately started screening. Three stations were prepared for today's visits to enable a low trainee to trainer ratio, where we were able to observe and teach effectively.
WINGS medical director, Dr. Michelle Dubon, spoke to the team about the needs of the community and the efforts of their organization to educate women and youth, in addition to their cervical cancer prevention program. There was a high positivity of 16.6% and we coud not be more happy to offer this life saving service to women in this community!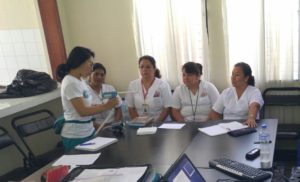 All women deserve access to necessary medical services and no one should die from a preventable disease. Together with your help, we continue to work toward this goal!