I heard about Cure Cervical Cancer 3 years ago, when my close friend Dr. Erica Oberman signed up to attend a mission in Guatemala. She came back with stories of beautiful women in their traditional clothing who would come from miles away to be seen and treated, and of kind nurses who would work in sweltering conditions to give those women excellent care. She came back from that trip excited, inspired, glass full.
Since then I've completed my Ob/Gyn residency training and have joined Erica in our faculty practice at UCLA. About 2 months ago, she said, "Hey, I'm going back to Guatemala again. Do you want to come?".  The answer was obvious. I made arrangements in my office to take time off, got my own patients in order, and in what seemed to be a blink of an eye, found myself on a flight to Guatemala City.
The first day of our trip we were welcomed into a community clinic, ALAS (or Wings) by a practice of 6 nurses and 1 Ob/Gyn.  We immediately got to work– registering women, evaluating them for dysplasia, and counseling them about the importance of cervical cancer screening.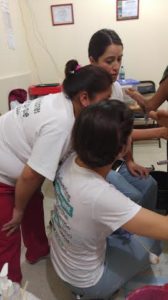 Every day after that I was assisting nurses in seeing 3 and 4 patients at the same time. On my second day of work a very experienced nurse called me to evaluate his patient. The woman was 31 years old, and had presented for her first cervical screening ever. I peered into the speculum inside her vagina, and found a fungating, bleeding mass about the size of a golf ball on her cervix. It was bloody and painful. It was frank cervical cancer.
I sat the patient up, and saw that her cheeks were caved in. She'd lost 20lbs in 3 months. She went to tell her family, and her 1 year old son, too small to walk by himself, latched on to her to breastfeed. Her 4 year old daughter, with large black eyes, looked at me excited to see the new and strange faces.
This woman's certain premature death could have been prevented if she had been screened just a few years ago, maybe even during the last CCC mission to Guatemala. We could have saved her life, and have kept her family a whole.
The obvious purpose of this trip, its primary end point, is the prevention of cervical cancer in women via early detection and treatment. But it's the less obvious purpose, the secondary and tertiary end points, that make trips like these meaningful– it's keeping women alive to continue to be the center of their families. It's ensuring that children are fed and loved, and that their mothers grow old enough to see their grandchildren. It's keeping a culture, like the Quechi culture in Guatemala, alive through the healthy women who sustain it.
This trip as taught me so much, both about cervical disease treatment and prevention, as well as about different societies and people. I am grateful to CCC for allowing me to be one of the accompanying physicians, and am proud to have been a part of such an important experience.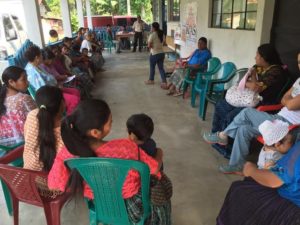 By: Dr. Valentina Rodriquez