Hello Dear Friends and Supporters! As you may know, Dr. Gordon and I are in Kenya for the week, performing a whirlwind of visits to our amazing clinics here! After almost 30 hours of travel, we threw our luggage in the hotel room and got right to work!
Our first day consisted of meeting with the Kisumu Minister of Health (and our wonderful friend), the Honorable Dr. Elizabeth Ominde-Ogaja. We started our day with a visit to our Migosi clinic, where we were warmly welcomed by our friend and "See and Treat" certified nurse Everlynne, who (along with her remarkable colleagues) has been doing amazing work, truly helping to save the lives of women in this community!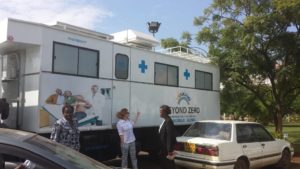 Next, it was time for us to see the new "mobile clinic" which is a recent movement begun by the First Lady. These large clinics are able to go out into the most rural of communities and provide care to women who otherwise would not receive care due to the inability to travel to a clinic. It has been requested by Dr. Elizabeth that CCC partake in this and establish a mobile "See and Treat" clinic, so we were very excited to have a chance to see the mobile clinic firsthand. We were astounded by its size, and thrilled that more women in need will be able to receive care! In the photo, Dr. Gordon points out where the CCC logo will shine!