Hello, my name is Donna Stellini and I am a photojournalist. I am the prior owner of Stellini's restaurant and have lived in Beverly Hills nearly all my life.
The reason I came to Ethiopia with our volunteer team of doctors, nurses, and staff of CCC, as a photojournalist was to tell a story with my camera. What it entails to set up a clinic, train, and treat as many people in the week that we are here in Addis Ababa, at St. Paul's Hospital. To get this clinic off the ground required a tremendous amount of work, and I must thank the doctors, nurses, and all the trainees for the long hours and their dedication in caring for this curable disease. Watching them screen, test, seeing patient after patient, day in and day out, with such kindness to each of these ladies. I have seen hundreds of women tested, then screened.
Looking at them lined up waiting in the halls, for hours, so patiently, not speaking our language, but knowing that this clinic was offering them free screenings, giving them knowledge and when necessary treatment for a better life. Many women thought that under-developed countries do not have the availability of this easy test. They live in villages, even in the big cities, but the cost of seeing a doctor is just not possible.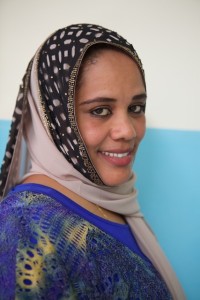 I have seen hundreds of women tested, then screened, women of all ages, young and old, and one day I was in the waiting room where when finished you get your papers and they explain to the women, what they need to do for the next couple of weeks. As I held my camera in my hand, looking around, my eyes meet with a beautiful face. She smiled, and, I smiled back. I came back in the room and she was still waiting. I went over to her and ask her if I could take a picture, and she agreed. In the camera my eye saw such a beautiful women, and I was just so happy inside of my heart, that this women could have a good life. This was my reward for traveling so far and to see with my own eyes what can happen, and how we can change one life forever. Her name is Eklima Mehammed Jemal , she is married and has one brother and one sister. She has three children. 4 year old Sara, 8 year old Abdurebi, and 11 year old Renim. Her husband Tamir has a small shop, in Burayu, which is not too far from the hospital. Sometimes she works in the shop with him, but she is a mother first and close to her own family. She came back to see me at the clinic twice, and I had a translator help me as we talked about simple things, and she thanked the clinic for giving her a good future in her life. As I walked her out of the hospital, and gave her hugs, my own heart was so happy that I could see that it does make a difference to care, no matter who you are or where you live, what color your skin, to put effort into helping our people in the world. Thank you Dr. Gordon for giving me this opportunity, and Eklima, your photos shows the beauty the Ethiopian women, thank you.