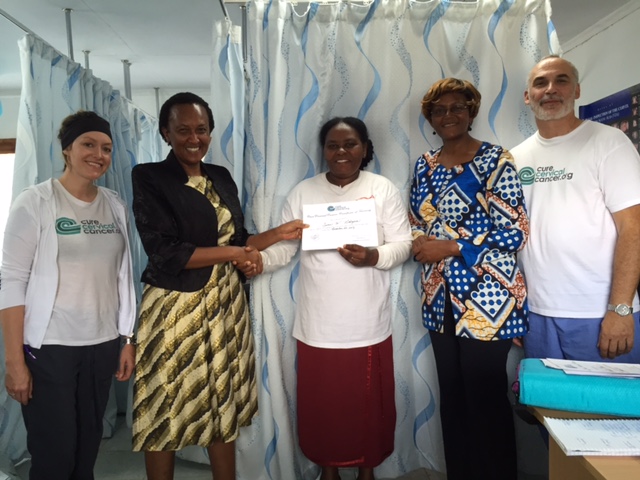 Today marked the end of an incredibly successful 1-week program in Kiambu County. Five days of screening culminated in an inspirational graduation ceremony during which Kiambu County's Head of Reproductive Health, Dr. Wanyee, made a surprise appearance. A well-respected woman with great influence, she expressed her gratitude towards the CureCervicalCancer Team for donating all the equipment necessary to sustain the six clinics in the region and for passing on the knowledge and skills to save lives to the local health care professionals of Kiambu.
As the ceremony went on, it was disclosed that many of the public Ministry of Health hospitals already possessed cryotherapy guns and tanks of nitrous gas. However, the outrageous realization that the equipment had sat at the clinics unused and collecting dust for the past three or four years since they have been donated by other US-based organizations left jaws hanging on the floor. Prior to CCC's program, other non-profits have come and gone through Kiambu. However, while they held screening programs themselves and donated essential equipment, they did not leave the most important thing: the knowledge for the local nurses and midwives to carry on the treatment. Therefore, CCC's Hi-Volume, Hi-Impact "See and Treat" training program is unique from other screening programs in that CCC trains the trainers in an intimate setting with a low trainee to trainer ratio. Consequently, the program was met with immense gratitude and open arms.
By the end of the week, the CCC Team screened 674 women and successfully treated 60 with cryotherapy for precancerous cervical lesions. CCC graduated 16 incredibly competent nurses and midwives, now empowered with the skills and knowledge to provide treatment for their fellow Kenyan sisters.